OCR A Level in Religious Studies (H573)
Exam Board: OCR
Specification Number: H573
76.92% of our latest cohort achieve a grade C or above
What will be studied?
Philosophy of Religion
Ancient philosophical influences
Soul, mind and body
Arguments based on observation
Arguments based on reason
Religious experience
The Problem of Evil
The Nature or Attributes of God
Religious language
Twentieth-century perspectives
Religion and Ethics
Aquinas' Natural Law
Fletcher's Situation ethics
Kantian ethics
Utilitarianism
Euthanasia: applied to NML and SE
Business ethics: applied to Kant and Utilitarianism
Meta-ethical theories
Conscience
Sexual ethics: applied to all normative theories
Developments in Christian Thought
Augustine's Teaching On Human Nature
Christian Teachings on Heaven
Knowledge of God's Existence
The person of Jesus Christ
Christian Moral Principles
Christian Moral Action
Religious Pluralism and Theology
Religious Pluralism and Society
Gender and Society
Gender and Theology
The Challenge of Secularism
Liberation Theology and Marx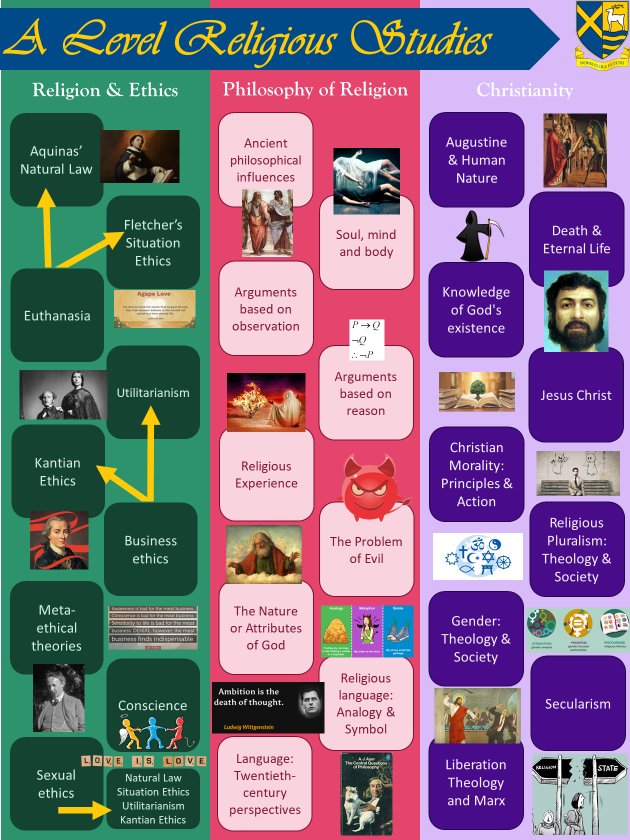 ASSESSMENT
Philosophy of Religion
120 Marks
2 Hour paper
Answer 3 questions from a choice of 4
33% of total
A Level
Religion and Ethics
120 Marks
2 Hour paper
Answer 3 questions from a choice of 4
33% of total
A Level
Developments in Christian Thought
120 Marks
2 Hour paper
Answer 3 questions from a choice of 4
33% of total
A Level
What texts are recommended?
All OCR accredited Textbooks are linked via Google Classroom, students can look at copies in RP2 to decide which is right for them. The OCR Specification has a list of 'contextual references which are useful for students reaching for the top grades. All students have access to RS Review and Dialogue articles in the Library and shared digitally.
Introduction texts for Philosophy of Religion, Ethics and Christian Thought are:
Think: A Compelling Introduction to Philosophy by Simon Blackburn
The Puzzle of Ethics by Peter Vardy and Paul Grosch
Christianity: A Very Short Introduction by Linda Woodhead
Texts that are required reading are as follows:
'Theology & Falsification: A Symposium' A. Flew, R. M. Hare, and B. Mitchell
Bible references: Genesis 3, Matthew 25:31–46, Mark 6:47–52, John 9:1–41, Matthew 5:17–48, Luke 15:11–32, Mark 5:24–34, Luke 10:25–37 and Ephesians 5:22–33
The Holy See: Redemptoris Missio 55–57 and Mulieris Dignitatem 18–19
Church of England: Sharing the Gospel of Salvation
What websites are recommended?
- Faculty of Divinity, University of Cambridge - 'Cambridge in your classroom' playlist
- Crash Course - 'Psychology' playlist, 'Philosophy' Playlist and videos on religion and history are useful.
- BBC Radio 4 - 'History of Ideas' playlist
- Wireless Philosophy has many specific videos that are useful
- Harvard University - 'Justice with Michael Sandel' is a must watch for ethics
- The Bible Project - explains relevant parts of Theology in an interesting way.
What equipment is needed?
A4 Ring Binder, hole punch, file dividers, lined paper, highlighters, pencils and pens.