Online Safety
As technology and the internet become more and more a part of everyday life, we are keen to work together with parents to ensure students are informed about both the benefits and the dangers of life online.
Online Safety whilst learning at home
With children and young people relying on their technology more and more at home for learning and entertainment, it remains vital to keep conversations about online safety going and raise awareness of reporting routes if something goes wrong. Thinkuknow offer advice and support in ensuring students are kept safe whilst online. You can view their website here.
What are we doing at St Albans Girls' School to keep students safe?
Annual Online safety information evening for parents/carers
Comprehensive PSHE programme that regularly addresses e-safety
Regular awareness in ICT/Computing lessons
Regular assemblies
Form group discussions
Online safety posters around the school outlining guidance for online safety and cyberbullying
Regular reminders to report any behaviour of concern
Fully informed and sympathetic staff community
Extremely strong firewalls and online protection
User agreements that students and staff are required to sign
Use of consequence system to give a firm message to those who abuse social media, particularly to be unpleasant
1:1 conversations with students who abuse social media or put themselves at risk
We always encourage the girls to come and tell us if something on the internet has upset them and we hope they continue to do so but we would rather they were not upset at all and we have spoken to all years groups about making sensible choices about their use of the internet. If you have any concerns about e-safety please do not hesitate to contact us.
Advice and Guidance about online safety
Children and young people spend an average of 12 hours a week online and it becomes part of their routine early on in life. Whether it's e-mail, gaming, social media, searches, YouTube, they're on it constantly. We recently held an Online safety evening for parents which focused on e-safety and new developments in internet sites, gaming and social media. More and more we are seeing that children's misuse of the internet can be to the detriment of their safety, welfare and happiness.
The sites/apps that students are currently using include Facebook, Instagram, Twitter, Snapchat, Quoetov, Meowchat, Whatsapp, Askfm, Oovoo, Kik, Yik Yak and there are hundreds more. To have a social networking account a person should be 14 or over. Research done by the NSPCC highlights that the damage done to the wellbeing of children aged 11 and 12 years, by social media, is far more acute as they do not have the emotional maturity to cope with the issues that arise. All internet sites that children are using should have a CEOP – report abuse button. If it doesn't, it isn't safe. In particular, the use of internet sites/apps that are used to make others feel unhappy or can lead to children viewing images that are inappropriate should be avoided.
Some sites/apps are chat rooms and social networking sites, others are for the display of pictures and messages. All are open to public forum and therefore have an element of danger, especially chat room and social networking sites where children can talk to people from anywhere in the world who may not be who they say they are. Many of the sites/apps have location settings, which if not disabled, can allow another person to see exactly where you are. This coupled with the personal information which many children share online can be very dangerous. SnapMaps is the most recent of these that actively encourages children to post details and reveal their locations to others.
All can be used in negative way to upset others. Examples include, posting images of events other children were excluded from or posting comments about people with pictures on Snapchat, which only lasts a short time on Snapchat but can be screen shot and used elsewhere. Askfm and a new site called Sarahah are particularly worrying as they can be anonymous and therefore people can post/ask unpleasant and questions and can get replies without the victim knowing who it is. The easiest way to avoid this is to not look at these sites and to stop your daughter accessing them.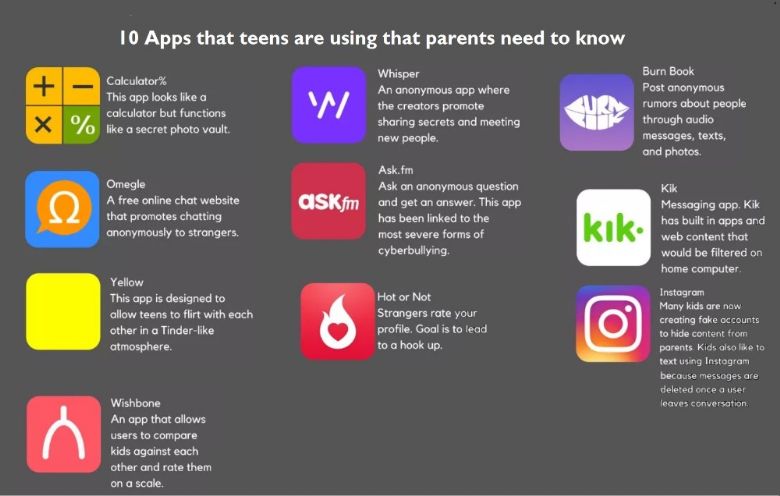 Video games can also be a source of danger as many contain images and action that is violent and unsuitable, even popular games like Minecraft and Call of Duty should be monitored carefully. Games played online enable children to interact with strangers and view 'messages' left behind. Please check the PEGI rating of any game your son/daughter is playing.
One of the biggest dangers of social media in recent years is the ease with which individuals can be accessed online. This has led to online grooming and sexual exploitation. Despite being fully aware of e-safety guidelines, most young people with social media have hundreds of 'friends' or followers that they do not know in person. They will often become involved in 1:1 conversations and 'relationships' with these people. This can lead to requests that are inappropriate and dangerous. For example they may ask for sexual photographs/videos, often using emotional blackmail to acquire them. Peer pressure to be popular with others can often persuade girls/boys who would otherwise know better, to send inappropriate images. This is called sexting and it is illegal. Whilst someone might promise that a picture will remain private, they are often passed on within the community leading to humiliation and upset.
Once a person puts something on the internet is stays on their e-footprint forever. Any employer or educational establishment may well Google a prospective student/employee to check on their character. In addition, even if something is sent or posted from an account using a different name, it can still be traced to that device.
In addition, what someone puts on the internet can be a criminal offence if it is deemed to be offensive to another person. In particular, any comments degrading race, gender, religion or sexuality can be reported to the police as a hate crime, by the victim or anyone else that sees it and is offended.
Another worrying trend is the ease in which messages can be sent to large groups of people about events that are undesirable. For example, we have had instances of students from other schools posting invitations to fights and parties where alcohol and drugs have been present. We would encourage you to know exactly where your daughter is at all times and be aware that they may be drawn into risk taking behaviour that they know is wrong/dangerous through peer pressure. Talk to them about what they would do if they found themselves in a situation that got out of control. Make sure they have strategies to protect themselves.
We would urge you to be extremely vigilant about what internet sites your daughter is using and ensure your parental controls are set to the appropriate setting. In particular, check the smart phone apps she is using as these are more difficult to put controls on. However, there is a wide variety of software and advice available to parents at www.internetmatters.org or www.parentinfo.org. You can restrict the Wi-Fi on certain devices in the home and Wi-Fi at certain times. Go to www.bt.com/staysafe, www.sky.com/security, search 'Virgin Media Parental Controls', www.talktalk.co.uk/security. Young people will inevitably find ways to get around parental controls so even when you have these set up please continue to be vigilant. In general, we would advise that you limit the time your daughter has on technology and, in particular social media. You will find that her happiness and interaction with family life is much improved as a result. Encourage use of the internet in communal family areas and be concerned if your daughter is spending a lot of time on her own in her room on social media. Supervise internet use for homework as this can be a key time for distraction onto other sites.
It's important to start talking to your daughter about keeping safe online at an early age. It's easier to have conversations about online safety little and often, rather than trying to cover everything at once. As your daughter gets older, and technology changes, make sure you keep talking about what they're doing online and how to stay safe. Treat your daughter's online activity just like any other activity. Ask your daughter to show you their favourite things to do online, show an interest in what they do - just as you would offline. Children don't think of people they've met online through social networking and online games as strangers, they're just online friends. Ask them about any online friends, who are they? Check they know how to use privacy settings and reporting tools on any online accounts like Facebook or games, and remind them to keep their personal information private. Talk to your daughter about what to do if they see content or are contacted by someone that worries or upsets them. Encourage them to use the checklists attached below to ensure they are safe.
We know that one of the hardest things about internet use is restricting it. We would strongly advise that you set rules and agree boundaries. These will depend on your daughter's age and what you feel is right for them, but you might want to consider:
• The amount of time they can spend online and when
• The websites they can visit and activities they can take part in
• Rules for sharing images and videos
• How to relate to people online - not to post anything they wouldn't say face-to-face
• Information that they are allowed to share
Don't be afraid to shut it down, turn it off and insist they have a conversation with you!
National Online Safety have launched a new free national Online Safety App. Watch the video to find out more: