PTA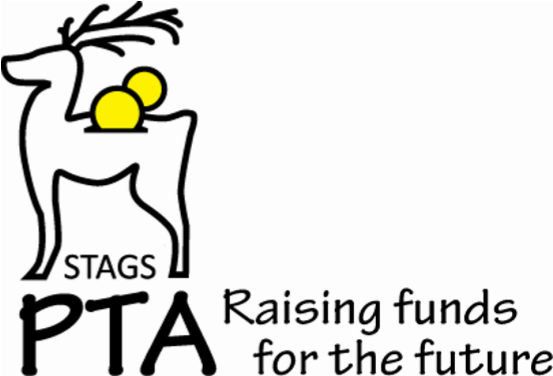 Welcome to all STAGS Parents and Carers!
As a parent/carer of a student at STAGS, you are automatically a member of the Friends of St Albans Girls School, (or STAGS PTA for short)
Our Current Projects are:
Creating a multi-use classroom to support the increased uptake of D&T subjects at GCSE and beyond

Library refurbishments

New sound and lighting systems in the School Hall

Small projects fund
Previously, through our fundraising efforts and the generous support of the STAGS parent community, the PTA has been able to donate:
A new state-of-the-art school minibus;
£25,000 towards the Centenary celebrations, which includes a new Centenary Garden Area and Outdoor Classroom;
Full refurbishment of two Food Technology Classrooms (the PTA donated £90,000 to cover the cost of this work);
A multipurpose Dance Studio (the PTA donated £110,000 to cover the cost of this multi-purpose facility);
An extension to the canopy area to allow for additional seating during break and lunchtimes;
New sound loop in the hall;
A small tractor to enable the Site Staff to make the school playground and entrances safe during the winter months;
Sewing machines for the textiles department;
Recycling bins which were requested by the students;
Funds to refurbish the school library;
Funds to upgrade the Sixth Form facilities;
Develop a sensory garden and seating area for students to enjoy outside of lessons;
As well as many smaller items requested by the academic departments.
View our Welcome video here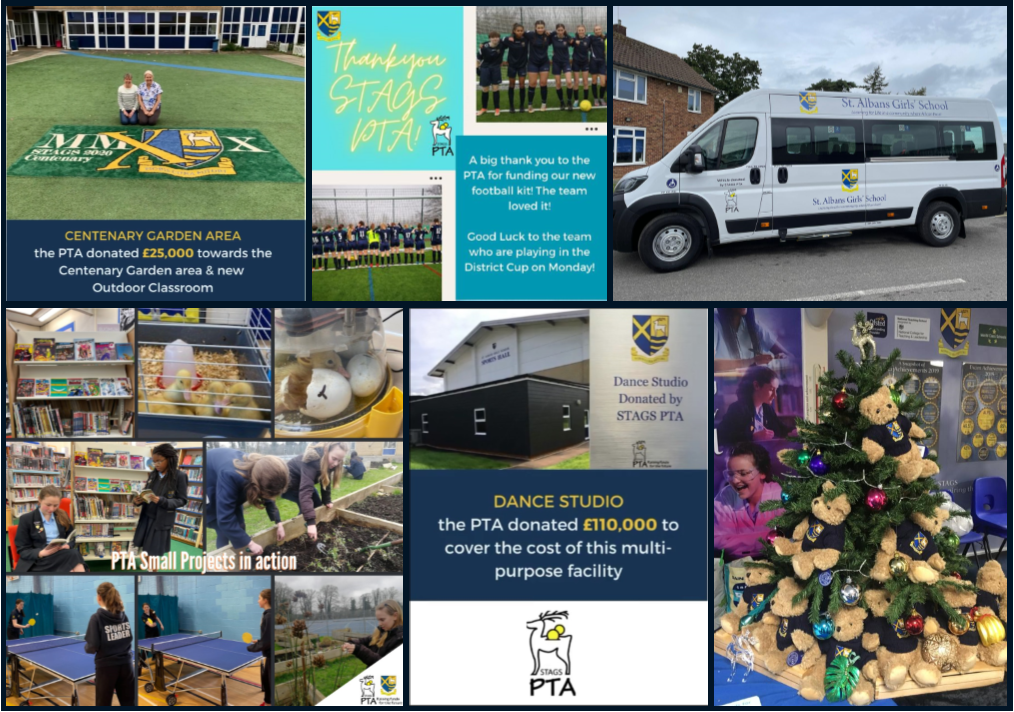 How can you help?
Parents and Carers can support the PTA in several ways.
Firstly, you can become an active member getting involved in planning and organising events, and attending our regular PTA Open Meetings.
Secondly, you can be a volunteer at one of our events by joining our Helpers List and responding to requests for help when you're able to.
Thirdly, and most importantly come along to our events throughout the year. They are very enjoyable and are always raising money to support the development of STAGS.
School Fund
Since 1986 parents have been providing financial support to the PTA via regular monthly donations to the PTA School Fund, enabling significant PTA contribution to the development of STAGS. Thanks to the Gift Aid scheme, a donation of £10 a month made under a Gift Aid declaration actually raises £150 each year for the school.

We are incredibly grateful for all School Fund donations however big or small, so if you would like to make a regular donation to the PTA please complete the School Fund Donation Form and set up a Standing Order from your bank account. It is also possible to make one off donations to the PTA via the School Gateway online payment system. Please do Gift Aid any donations you make if you are able to.
We always hugely appreciate the support and generosity of the Parents and Carers of STAGS and would like say thank you for all that you do to promote and enhance the community of the school.
To contact the PTA please email stagspta@gmail.com
You can view our Data Protection Policy here.
Easyfundraising
Did you know that whenever you buy anything online – from your weekly shop to your annual holiday – you could be raising free donations for STAGS with easyfundraising?

There are over 4,000 shops and sites on board ready to make a donation – including eBay, Argos, John Lewis, ASOS, Booking.com and M&S – and it won't cost you a penny extra to help us raise funds.

All you need to do is:

1. Click Here and join for free.
2. Every time you shop online, go to easyfundraising first to find the site you want and start shopping.
3. After you've checked out, the retailer will make a donation to STAGS (Friends of STAGS) at no extra cost to you whatsoever!

There are no catches or hidden charges, and we will be really grateful for your donations.

School Lottery
The STAGS PTA can also be supported by the members of our community aged over 16 purchasing a weekly £1 lottery ticket from Our School Lottery.
How it Works
Each School Lottery prize pot is determined by the amount of £1 tickets sold each week.
Each ticket purchased online (via a direct debit system which can be cancelled at any time) consists of 6 numbers between 0 and 9
There are TWO prize draws per ticket purchased: the STAGS fund which is a guaranteed winner for our school every Saturday which is drawn on a raffle basis, the winner is selected by a computer at the School Lottery HQ and then each Saturday ALL schools' lottery ticket numbers are entered into a JACKPOT draw, where if you match all 6 numbers you win the £25k JACKPOT!
Your £1 ticket cost is spilt as follows: 40% goes to the school PTA fund, 36% is put into the school prize kitty and 24% is given to School Lottery for admin and VAT
All T&Cs with information such as how long you need between signing up and your numbers going 'live' are on the website and can be found here: https://www.yourschoollottery.co.uk/game-rules