Key Stage 4 Information (Years 10, 11)
In Year 10, students will receive a report card each term (three per annum) Every report card will contain the Most Likely Outcome (MLO) grade and Attitude To Learning (ATL) for each subject. In addition to this, the Target Grade for each subject will also be given; this is generated with guidance from the Fischer Family Trust (FFT). This organisation helps us to set aspirational targets for students based on their prior attainment at KS2.
In the summer term of Year 10, the final report card will also include an exam result.
In Year 11, students receive two report cards. One in the Autumn Term after their mocks and another in the Spring Term. Similar to Year 10, the report card will contain MLO, ATL and their Target Grade. In the Autumn term students will also receive their Mock result. As in year 10, your child will be awarded an Attitude to Learning level as outlined below. Students will also receive a Praise and a Progress comment from each subject teacher as well as a form tutor comment once a year.
We have high expectations of all students at STAGS, and we expect most students will receive a '3' for 'Meeting STAGS Expectations'. Over the course of the year some students may demonstrate that they have exceeded these expectations and will be awarded a level 4. For exemplary attitude, students will receive a level 5 and will be invited to a Headteacher's celebration lunch in the summer term where they can share how they have exceeded expectations in a subject area: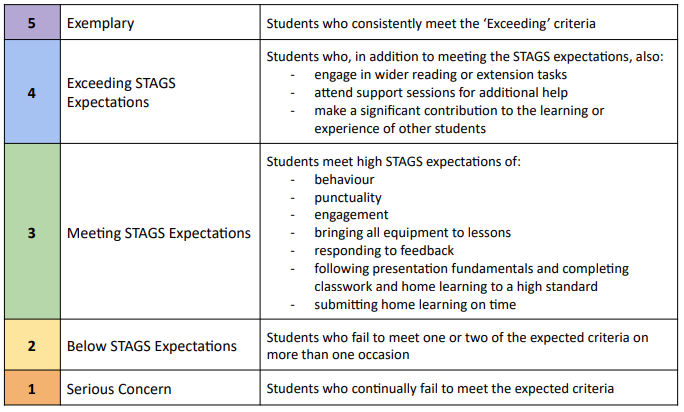 KS4 Reporting - Key Dates for 2023-2024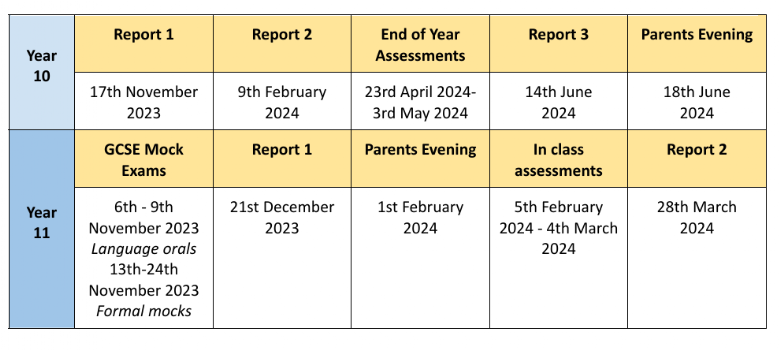 If you have any queries about your child's progress within a subject, please do not hesitate to contact their Subject Teacher. If your queries are more general i.e. across a number of subjects, please contact your child's Director of Learning.