T Levels
We are delighted to be able to offer the Education and Childcare T Level from September 2024
The purpose of this T Level technical qualification is to ensure students have the knowledge, skills and behaviours needed to progress into skilled employment or higher level technical training or study in the Education and Childcare sector. The outline content has been produced by T Level panels on the same standards as those used for apprenticeships.
The two-year programme is a combination of classroom-based knowledge development and 750 hours in a real setting to develop occupational skills (organised by the school).
It is a Level 3 qualification that follows on from GCSEs and is the equivalent to three A Levels with UCAS points. The technical qualification is split into two component parts:
COURSE CONTENT:
1. The core component: the knowledge and underpinning concepts, theories and principles as well as core skills in:
The education and childcare sector from ages 0 to 19

Child development

How to support children and young people's education

Safeguarding, health and safety and wellbeing

Understanding and managing behaviour

Observing and assessing children and young people

Equality and diversity

Special educational needs and disability

English as an additional language

Working with parents, carers and wider families

Working with agencies and services that support children, families and carers

Reflective practice and other forms of professional development
2. The occupational specialism is spread over the two years, by learners completing 750 hours in a real childcare setting. This section provides students with knowledge and skills required to enter employment or further study in the specific occupational area.
HOW IS THE COURSE ASSESSED?
Two written examinations (Paper A and Paper B)

An employer-set project (ESP) - a supervised project, devised and set by the awarding body NCFE
After completing the two-year course, students will gain a 'licence to practise' ready to enter the workforce as competent Early Years Practitioners. Some students may choose to go on to further education to study courses closely linked to childcare and education. Others may have opportunities to be offered job roles in many nursery and school settings in the local area.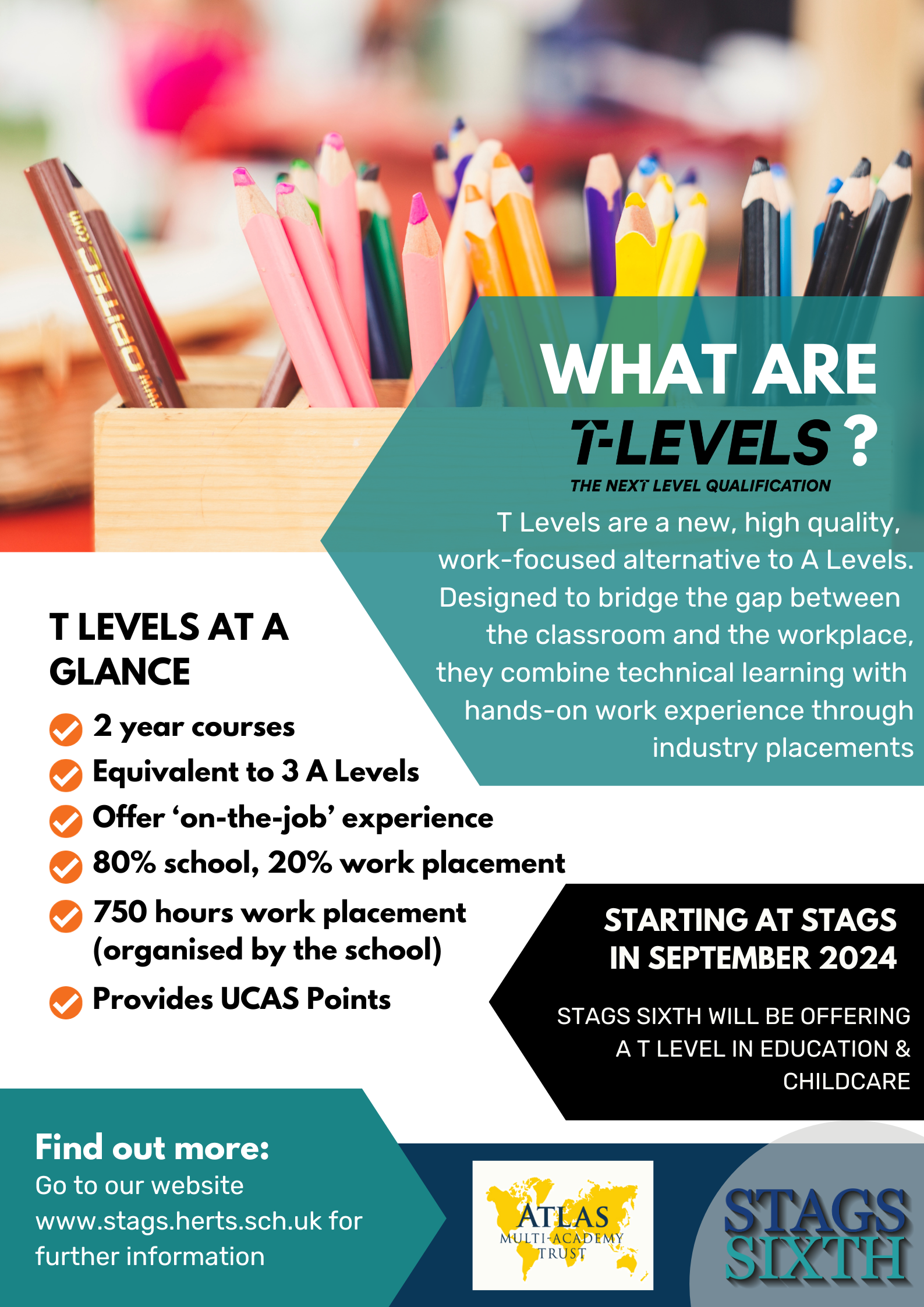 More information on T Levels can be found on the government website: www.tlevels.gov.uk